TRAFFIC TICKET DEFENSE WEBSITE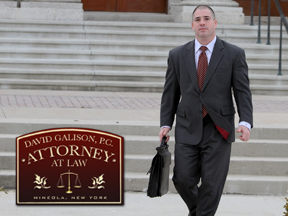 NA
SSAU COUNTY TRAFFIC TICKET ATTORNEY
VALLEY STREAM VILLAGE COURT


123 South Central Ave, Valley Stream, NY



Valley Stream
 Speeding Ticket Attorney
Valley Stream
 Traffic Ticket Lawyer
If you have been issued a traffic summons or traffic ticket in the 
Valley Stream Village
Court you should have a 
lawyer
protecting your rights. Any moving violation can cause points on your license putting both your driver's license and your auto insurance at risk. The law firm of 
David Galison, P.C.
, appears regularly at the V
alley Stream Village
Court handling all types of traffic tickets. If you have been given a traffic summons for any of the following please call for a FREE CONSULTATION: 
Speeding Ticket
, 
Red Light Ticket
,
Stop Sign Ticket
, 
Failure To Signal Ticket
, Unsafe Lane Change Ticket, or Reckless Driving. The
office
 handles all moving violations, traffic infractions, traffic tickets, and
criminal matters
.
The V
alley Stream Village
 Court Justice
 is
 the Honorable 
Robert G. Bogle
.
A personal appearance is required by the Court for those charged with 
criminal law violations
or traffic violations. However, your appearance can be waived by the Court for a non-criminal traffic ticket with a properly executed authorization. With this authorization, I can appear on your behalf in your absence.
It is important to have an experienced attorney who knows the rules of the V
alley Stream Village 
Court and is familiar with the 
vehicle and traffic law
 in order to protect your rights. I am Nassau County traffic ticket lawyer 
David P. Galison
, and for over a decade, I have handled traffic tickets ranging from minor equipment violations to trucking violations to 100 mph plus
speeding tickets
 in the Nassau and Suffolk County Courts. I routinely appear in the 
V

alley Stream Village Court
 and am fully familiar with the Court rules and procedures. I handle all tickets no matter what the violation and strive to keep your 
points
 and insurance premiums down.
At the Law Office of David Galison, P.C., the Defense of Traffic Tickets is taken extremely seriously. Despite the fact that traffic tickets and moving violations are not normally criminal in nature the consequences of a conviction can have long-lasting effects on your driver's license and auto insurance policy. Traffic tickets convictions can lead to any one of or a combination of the following:
A suspended or Revoked Drivers License*
Increased Insurance Premiums for several years.
Cancellation of your Auto Insurance Policy.
Points on your Driver's License**
*The failure to answer a Traffic Summons can result in the suspension of your driver's license. If you are subsequently stopped by a police officer for a traffic violation while you are operating a motor vehicle you can be arrested and handcuffed and charged with a criminal offense.
**If you receive more than ten points in any 18 month period, your driver's license can be suspended by the Department of Motor Vehicles. Points are computed by the Department of Motor Vehicles from the date the summons is issued, not the date of conviction.
Call the Law Office of David Galison, P.C., to set up your FREE CONSULTATION. At this meeting, we will advise you of the various options available to you. You will be informed of the legal fee charged for handling your case and the anticipated outcome.
In many cases your traffic violations can be resolved without your presence being required in Court, saving you time and money from loss of work and other important obligations.
I routinely handle the following types of traffic ticket cases; Speeding Ticket,Stop Sign Ticket, Red Light Ticket, Failure To Signal Ticket, Driving on a Suspended License, Driving on a Revoked License, Driving While Intoxicated, DWI, Driving While Impaired, DUI, Illegal Turn Ticket, Improper Turn Ticket, Unsafe Lane Change Ticket, Failure to Yield Ticket, No Insurance Ticket, Reckless Driving Ticket, Speed Contest Ticket, Passing a School Bus Ticket, Tailgating Ticket, Following to Closely Ticket, Disobeying a Traffic Control Device Ticket, Leaving the Scene of an Accident Ticket, Cell Phone Ticket, and all others.
Attorney Advertisement