NASSAU COUNTY DISTRICT ATTORNEY KATHLEEN RICE
ISSUED LETTERS TO PRISON INMATES INFORMING THEM
OF DEFICIENCIES IN THE NOW DEFUNCT NASSAU COUNTY CRIME LAB
The Nassau County District Attorney Kathleen Rice has recently issued a letter to almost three hundred inmates informing them that the Nassau County Crime Lab may have made mistakes in connection with drug and alcohol charges they face. (See the letter below) The crime lab was ordered closed by County Executive Edward Mangano and is currently under investigation.
The letter issued by Rice makes no mention of the fact that the lab has been shut down or that there is a possibility of criminal charges being filed against lab employees. Furthermore, the letter denies known deficiencies in blood alcohol testing, but admits that administrative errors in documentation and reporting have been uncovered. To this end, Margaret Fisher, a scientist at the lab has admitted to at least 9 known errors. The State Inspector General has recently issued subpoenas to County Executive Edward Mangano and former County Executive Thomas Suozzi in connection with the continuing investigation in which over 100 subpoenas have issued already.
For the time being the lab is closed and the door is locked with a key that is only held by the State Inspector General's Office and the head of Police Internal Affairs. In addition a video camera is mounted outside the lab to monitor the door just in case anyone should try to break in.
Just what impact the errors and deficiencies in testing and documenting will have on drug and driving while intoxicated (DWI) cases is as of yet unknown. However one thing is certain, the credibility of every test done by the Nassau County Crime Lab is questionable at best.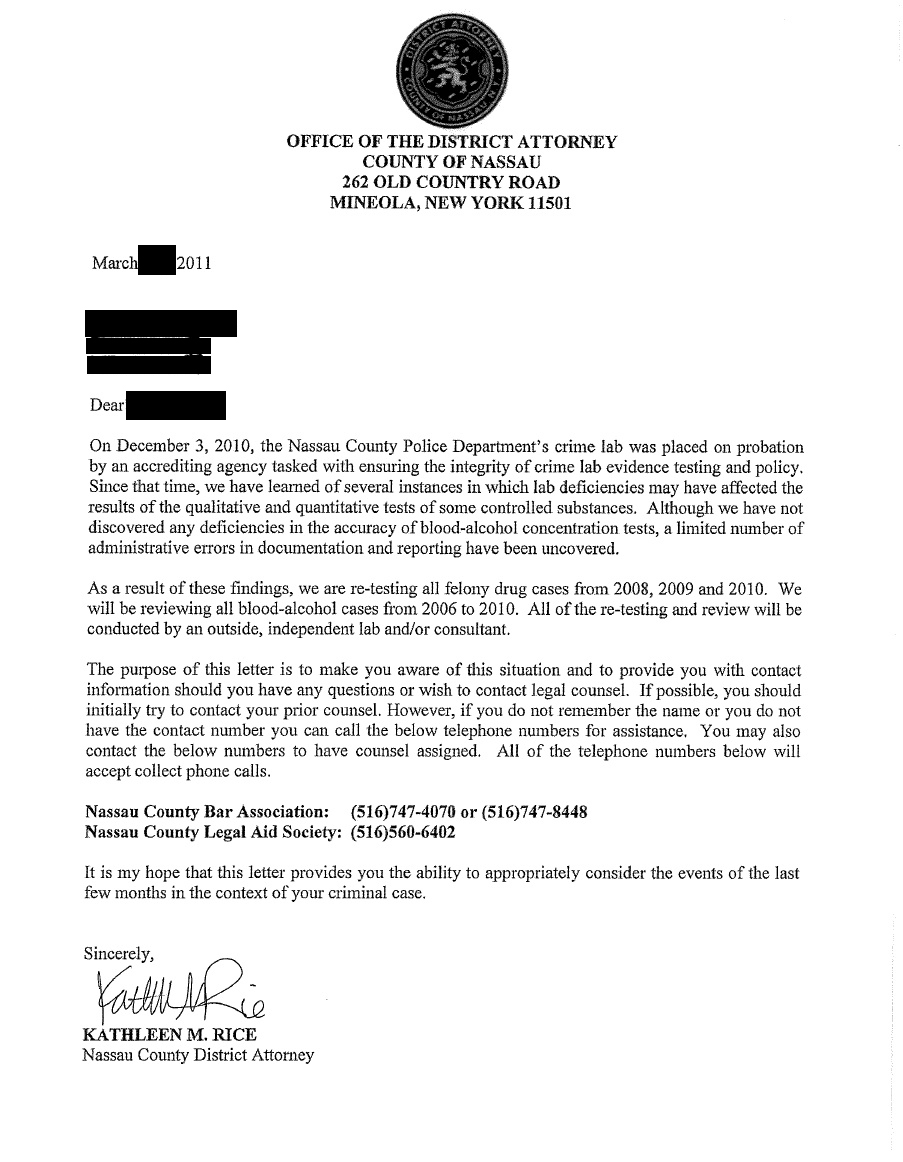 At the Law Office of David Galison, P.C., we strive to ensure that your rights are protected. If you are charged with the possession or sale of any drug, or are charged with any alcohol related driving offense in Nassau, Suffolk or Queens County, contact the Law Office of David Galison, P.C. at 516-242-4477 to schedule a FREE CONSULTATION to discuss your case. Visit our website at: David Galison, P.C.